BECOME PART OF OUR MOVEMENT TO CHANGE CONSUMERISM FOR THE BETTER.
Chelsea Boot in Calf Leather
Chelsea Boot in Calf Leather
The Chelsea boot celebrated its fashion revival in the 1960s thanks to the Beatles, who ensured that the shoe found favor with both men and women in fashion. Handcrafted in Montegranaro, the Chelsea Boot in Bordeaux made by Elisa represents the British lifestyle and impresses with its Italian quality. Its ability to be combined with modern, classic and casual outfits is legendary.
We do not make any profit by selling products.
Manufacturer Cost:
€128,57
Modelling, Materials, Labor, Packaging
Warehousing, Shipment & Return
Invoicing and Customer Service
Research, Design and Development
The traditional retail brands calculate with a retail mark-up between 3-6 times the manufacturer costs depending on the product category.
We are collaborating with Retraced to track our complete supply chain so you know where your product is being produced and all raw materials come from. We bring complete transparency to our manufacturing process and the origin of our production.
Italian calf leather
Long-lasting product
Use our footwear cleaning kits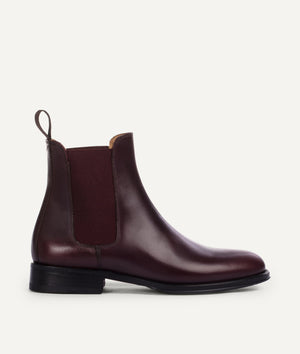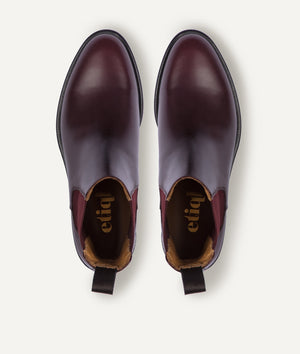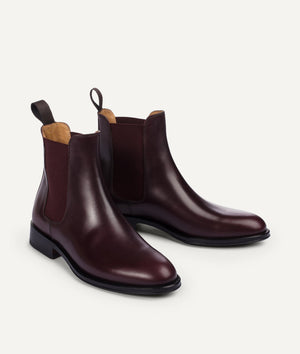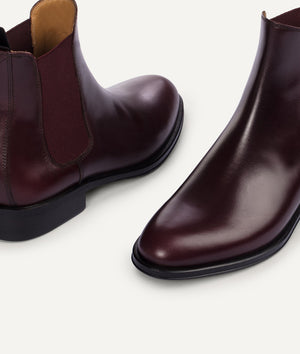 Quality focus
Quality focus
Accessories
Dust bag included
Color
Bordeaux
Other
Vibram Topy
Sole
Stitched Leather Sole
Material
Italian Calf Leather
Elisa Four decades of craftsmanship and passion for footwear
"We were founded in 1976 in a small town in the Marche region, Montegranaro. At the time it was a fast-growing district with hundreds of micro enterprises specialised in shoe manufacturing. A lot has changed since then but we still hold up the same passion, vision and determination as our founders." Elisa
Elisa
Four decades of craftsmanship and passion for footwear
"We were founded in 1976 in a small town in the Marche region, Montegranaro. At the time it was a fast-growing district with hundreds of micro enterprises specialised in shoe manufacturing. A lot has changed since then but we still hold up the same passion, vision and determination as our founders." Elisa