BECOME PART OF OUR MOVEMENT TO CHANGE CONSUMERISM FOR THE BETTER.
Knives Polishing Kit
Knives Polishing Kit
We do not make any profit by selling products.
Manufacturer Cost:
€22,17
Modelling, Materials, Labor, Packaging
Warehousing, Shipment & Return
Invoicing and Customer Service
Research, Design and Development
The traditional retail brands calculate with a retail mark-up between 3-6 times the manufacturer costs depending on the product category.
We are collaborating with Retraced to track our complete supply chain so you know where your product is being produced and all raw materials come from. We bring complete transparency to our manufacturing process and the origin of our production.
Stainless Steel Blade
Long-lasting product
A stainless steel blade can be washed with hot water and dish soap or any other mild soap. Be careful not to use harsh dish soap and do not leave your kitchen knife to air dry. After rinsing your knife with water, dry it with a cotton rag.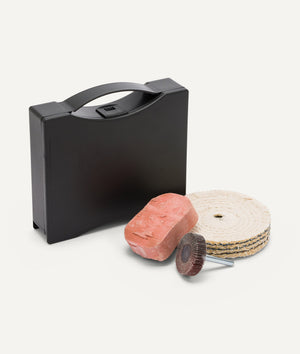 Quality focus
Quality focus
Color
Black
Construction
1Disc in alternating layers of cotton and sisal for polishing
Other
Polish n° 505
Weight
160 gr